INDIAN SOCIAL CLUB, SOHAR
Table Tennis and Badminton Tournament Results
21/10/2011 in Sohar Sports Complex

Table Tennis

Category
Winners
Runners
LADIES
NAMITHA GUPTA
KRUTI DAMANI
Under 14 (Boys and Girls)
SWAPNIL GUPTA
DEVENDRA PUROHIT
MENS SINGLES
Dr. VIJAY KRISHNAN
ABHINAV GUPTA
2nd Annual Badminton Tournament
Category
Winners
Runners
Ladies
TANVI SHAH
PRITHVI ARVIND
Under 14 (Boys and Girls)
AKHIL KOTHARI
AAYUSH SINHA
MENS SINGLES
VIJESH T. VIJAYAN
JOSEPH RAPHAEL
MENS DOUBLES
SRI HARI & VIJESH T. VIJAYAN
B. KARTHIK & JOSEPH RAPHAEL
Photos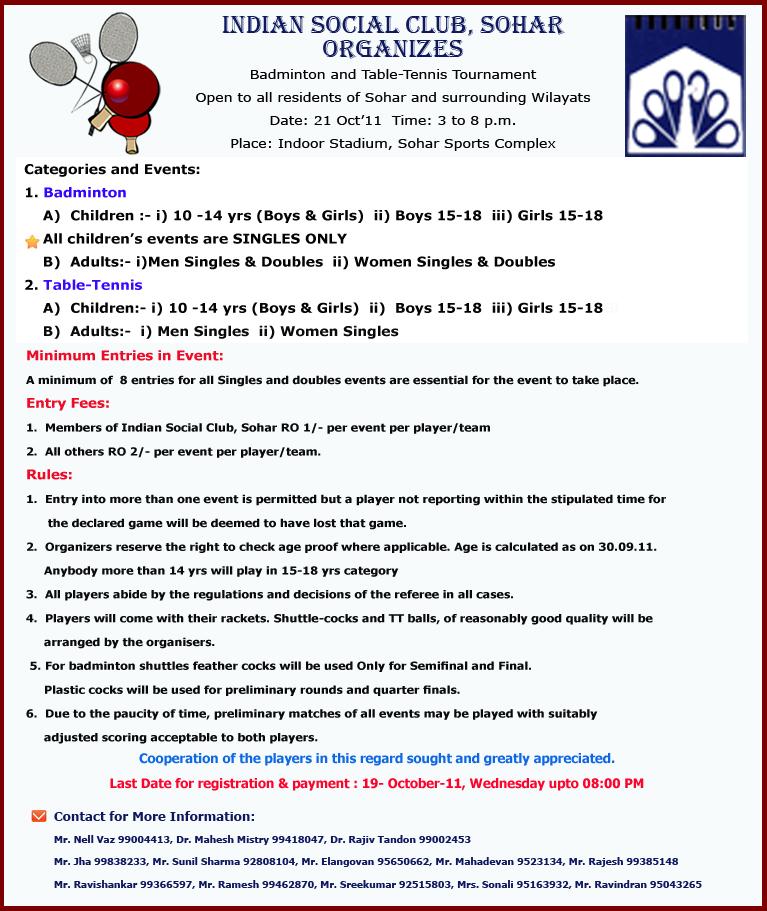 Click here to get this advertisement in PDF Format Dear Friends,
The pleasant weather is now upon us. The festive season is around the corner. To make the most of this fine weather, the Executive Committee of Indian Social Club, Sohar has decided to have a few events.
Badminton and Table Tennis tournament on Friday 21st Oct. 2011 in Sohar Sports Complex.



Ladies Day to be held on 17th

or 18th

Nov evening which will include Rangoli, Henna, Nail painting, Salad decoration contests and other events

Corporate Cricket tournament to be held on Friday 25th Novemeber 2011

Antakhshri competition to be held on Friday 2nd December 2011.


Possibly a Fashion show for the members & by the members on 15th Dec. 2011.
So please mark these dates on your calender, inform your kids and spouses and circulate to all.
Start practising playing Cricket, Badminton and T.T, and Rangoli making and growing your nails. Start practising your Vocals and have an idea how you are going to strut the catwalk. Details will be circulated soon about the above events.
Hopefully we will be able to do this and more. But we need sponsors to come forward for the same to help us. Please contact me or any executive committee member of ISC, Sohar for sponsoring any of the events and the prizes.
Attached with this mail is the poster for the T.T and Badminton tournament to be held on Friday 21st Oct. 2011. Please circulate and if possible print and put up on various notice boards after permission.
Warm regards
Dr Rajiv Tandon
Hon. Chairman,
Indian Social Club, Sohar