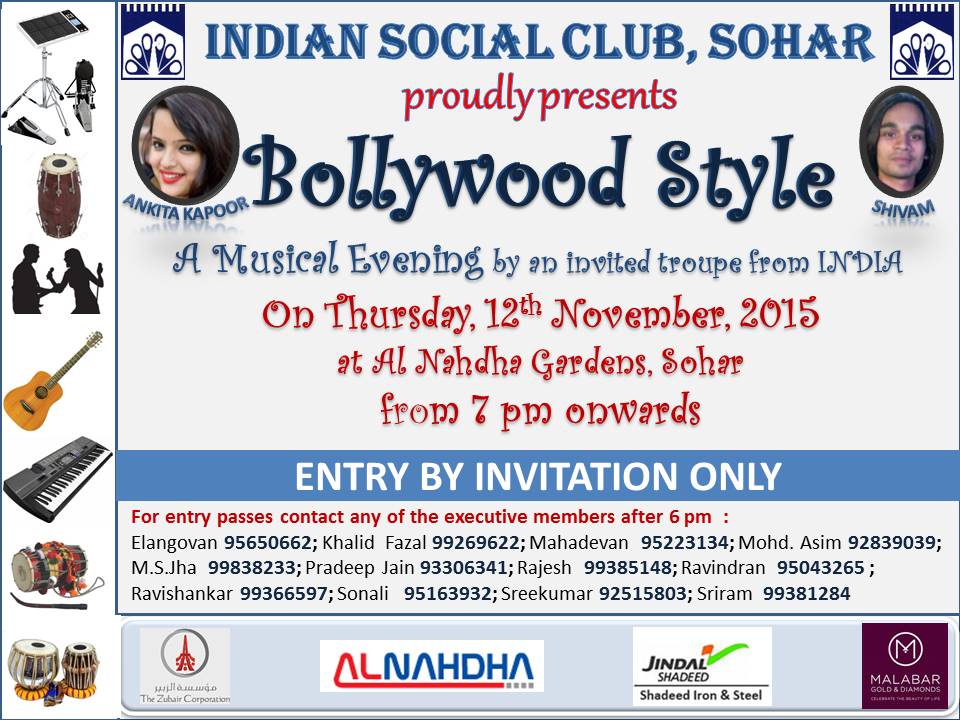 Dear Friends,

Indian Social Club, Sohar invites you to a pulsating musical evening titled "Bollywood Style" on Thursday, 12th Nov. 2015 (the day after Diwali) from 7 p.m. onwards in Al Nahdha Garden, Sohar by an invited troupe of singers / performers from India.
The event is being supported by Jindal Shadeed Iron & Steel LLC, Zubair Enterprises Northern LLC, Al Nahdha Group and Malabar Gold & Diamond Jewellery.
Entry to the event is by Invitation passes only. Entry passes (snack coupons) may be collected from any Executive Committee member mentioned in the attached poster on payment of R.O 1/- for active members of ISC, Sohar and R.O 3/- for non-members. Please become new members / renew membership to avail of discounted coupons.
Passes may also be collected on Monday, 9th Nov. 2015 at the venue Al Nahdha Garden, Sohar between 7.30-9.00 pm.

Please forward the mail and attached poster to a wider audience for information.

With warm regards
Dr. Rajiv Tandon
Hon. Chairman
Indian Social Club, Sohar
99002453