RESULTS


The prize winners of the

Art

competition

are as follows
Children upto Std. 2nd : 1st - Sinjini Sinhababu, 2nd - Sakina Kantawala, 3rd - M.A Zarha

Children 3rd to 5th Std : 1st - Nandita Nair, 2nd - Aditi Agarwal, 3rd - Shreedevi Mohan

Children 6th to 8th Std. : 1st - J. Shravan, 2nd - Sreyash Somesh Mishra, 3rd - Shriya

Children 9th to 12th Std : 1st - Nisha Ajayan, 2nd - Aakarshee Jain, 3rd - Adithya Manoj

Still Life sketching : 1st - Rajesh, 2nd - Byju Babu, 3rd - Ruchi R Misaria

Calligraphy

competition

: 1st - Aakarshee Jain, 2nd - Rajesh, 3rd - G.R Ashok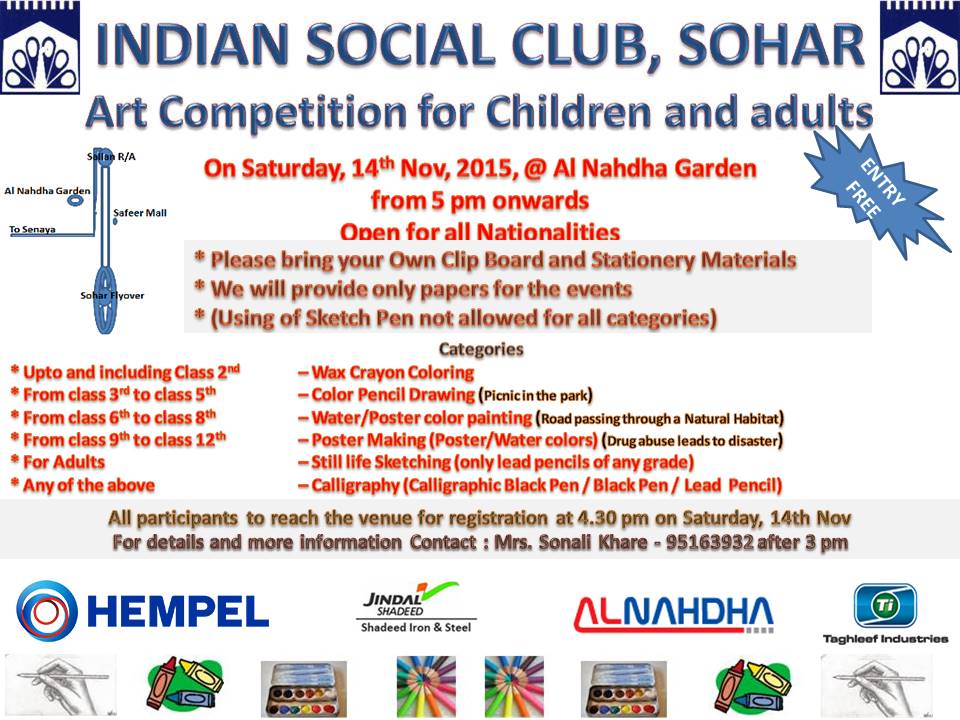 Dear Friends,
The Executive Committee of Indian Social Club,
Sohar
is organizing the
Annual Art Competition for children as well as for adults
to mark Children's Day and will be held in Al Nahdha Garden in
Sohar
on
Saturday, 14th Nov. 2015
from
5 pm
.
Entry to the event is free & open to all who may desire to take part
. The various categories and topics are
Upto and including Class 2nd -

Wax Crayon colouring of an

outlined given drawing

(Only Wax crayons)
From class 3rd to class 5th - Colour Pencil drawing and coloring on the topic

"Picnic in the park"

(Sketch Pen use not allowedincluding outlining)
From Class 6th to Class 8th - Water / Poster colour painting on the topic "Road passing through a Natural Habitat"

(Sketch pen use not allowed)
From Class 9th to Class 12th - Poster making competition using Poster / water colours

on the topic

"Drug abuse leads to disaster"(Sketch pen use not allowed)
For adults (both ladies & gentlemen) -

Sketching of a given on the spot OBJECT using lead pencils (any grade)
For all age groups (Children & adults both) - On the spot

Calligraphy competition

-

Only using black pen or lead pencil. No colors.
Please note children will have to draw sitting on a carpet on the floor. There are no tables.
Please get your own clipboards for clipping the drawing paper.
All participants to reach the venue for registration at
4.30 pm
on
Saturday, 14th Nov.
Good quality A 4 size paper will be used for all the categories and will be provided by
ISC
,
Sohar
. Other items like crayons, pencils, erasers, paints, clip boards etc to be used for the competition will have to be got by the participants themseles. All the works of art so generated will be the property of
ISC
,
Sohar
. Judging will be done later by a panel appointed by
ISC
,
Sohar
. 3 prizes in each category will be distributed in some future event of
ISC
,
Sohar
.
For details contact Mrs. Sonali Khare @ 95163932.
I call upon sponsors to come forward to give token gifts to all the participants and to the prize winners.
Please contact me or Mr. Rajesh Kondala @ 99385148 for the same.
Please circulate this mail to all your friends and especially to children to let them be informed about the same.

Regards
Dr. Rajiv Tandon
Hon. Chairman
Indian Social Club,
Sohar
99002453