Marati Food Festival - 01-Mar-2012



Dear friends,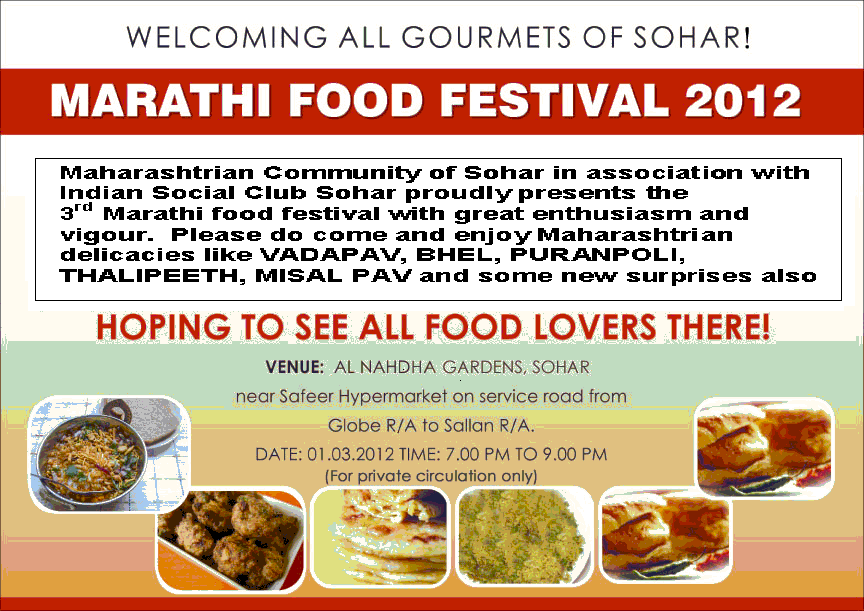 Last weekend had so much entertainment to offer for the Indian Community of Sohar ... mouth watering snacks and other dishes from the state of Tamil Nadu followed by an evening of Geet & Ghazals by a troupe from Madhya Pradesh. It was all happening at Al Nahdha Garden, the temporary office of Indian Social Club, Sohar. Both the events were very well attended. Thanxs go out to Al Nahdha Group of Companies for co-organising the event and for sponsoring the artistes along with FAQ International. I am also grateful to the Khimji group for sponsoring gifts for the artistes.
The photographs of the twin events of Tamil Food Festival & Sangeet Sandhya are in the process of being uploaded and hopefully by tomorrow morning they can be viewed in the Gallery section of our website
www.iscsohar.com
. If anyone feels any photograph on the website is objectionable please let us know and we will remove it.
This coming weekend
Indian Social Club, Sohar in association with the Marathi Community of Sohar
is organizing a
Maharashtrian (Marathi) Food Festival on Thursday, 1st March, 2012 in Al Nahdha Garden (old office) from 7 pm onwards.
All are cordially invited.
Details of the Food Festival can be had from the attached information leaflet. I hope lots of you will come to visit and sample the delicious fare from the state of Maharashtra.
I request our members who are community or corporate leaders to come forward to contact us in Indian Social Club, Sohar for help in organizing social and cultural events in association with us in terms of permission, venue, publicity etc. Any such request will be positively looked at.
Members are also requested to please send us ideas on what events or programs which you feel we should conduct. We will use your expertise and suggestions in making it a reality.
With warm regards
Dr. Rajiv Tandon
Hon. Chairman